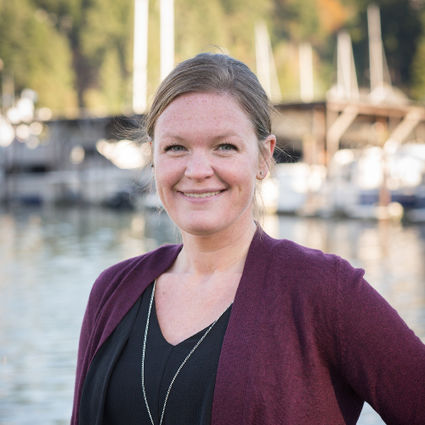 Sarah Purves
Broker
About Sarah
Sarah chose a career in Real Estate because she wanted to do something that would be very satisfying and rewarding. She joined Infinity Real Estate, a "boutique" firm, to be a part of a team that provides the highest level of customer service for both buyers and sellers from start to finish.
Sarah was born and raised right here in the Pacific Northwest which provides her with an extensive knowledge of the area. She considers herself lucky to call this beautiful place home and be a part of these growing communities.
Sarah's goal is to provide each of her clients with professionalism and honesty, and she strives to make sure every transaction is handled with true quality care. She is hardworking and always willing to learn, staying up to date with our fast-paced market. She has experience working behind the scenes in real estate and also on the mortgage lending side of the transaction which provides an exceptional knowledge base and deeper understanding of the process from looking at the first house to signing closing documents at escrow.
Sold Listings
1,404

sqft lot

12,633

sqft

Listing provided by Infinity Real Estate LLC, sold by Home Team Northwest

1,008

sqft lot

13,617

sqft

Listing provided by Infinity Real Estate LLC, sold by Properties NW of Gig Harbor

2,127

sqft lot

4,792

sqft

Listing provided by Infinity Real Estate LLC, sold by SKP

1,674

sqft lot

20,038

sqft

Listing provided by Infinity Real Estate LLC, sold by Park Place Properties

1,662

sqft lot

30,928

sqft

Listing provided by Infinity Real Estate LLC, sold by RE/MAX Connect

1,200

sqft lot

3,921

sqft

Listing provided by Infinity Real Estate LLC, sold by Better Properties N. Proctor

1,572

sqft lot

37,898

sqft

Listing provided by Infinity Real Estate LLC, sold by Windermere Professional Prtnrs

1,564

sqft lot

11,326

sqft

Listing provided by Infinity Real Estate LLC, sold by Windermere RE West Sound Inc.

Listing provided by Infinity Real Estate LLC, sold by Coldwell Banker Park Shore RE

1,693

sqft lot

3,485

sqft

Listing provided by Infinity Real Estate LLC, sold by John L. Scott, Inc
Our clients are awesome
and here is what they are saying
"Sarah was great! We loved working with her, she went the extra mile to make sure we found a home we loved."
Single Family Home Buyer Oct '19
"Sarah was amazing to work with! Not only did she expertly prepare and market our home but she got us exactly the offer we were looking for and guided us through closing so we never felt lost. She was incredibly responsive with any questions we had and I would certainly recommend her services to anyone looking for a fantastic Realtor to assist them with buying or selling their home."
Single Family Home Seller Jul '20
"Sarah is a go getter, hard working, and understands her clients' needs. She's friendly, helpful, patient, and met all of our expectations and more."
Single Family Home Buyer Aug '20
"Sarah was very friendly, patient and helped us tremendously as first time home buyers in a crazy year. We originally contacted her because we didn't have a realtor yet and she was the listing agent on a piece of property with only a barn built on it that we were interested in purchasing to rehab as a home. However, because of the current economy, we changed our plans and decided to look for a house instead. I asked if she had the time to continue working with us as our realtor and she seemed more than willing to help. She made herself readily available during the Holidays, which probably was the main contributing factor that helped us to find the perfect home for us in a very aggressive market. Every referral she had for us, from a loan officer to home and septic inspectors, were fantastic to work with. We're glad we took her advice to hire these additional services since we feel like it was well worth the minimal additional costs to be able to negotiate a fair deal in the end. Coming from a sales industry, I have seen the good and the not so good and she definitely made us feel like we were her only clients and that she genuinely cared about our needs and wants. We will definitely recommend her, as well as the companies she referred to us, to anyone we know who is looking for those services. P.S. She didn't even give us a hint about this survey and, in my opinion, doesn't need to. Her time, effort and sincerity speaks for itself. Thanks again, Sarah!"
Single Family Home Buyer Dec '20
"Sarah Purves was everything we could have hoped for in a realtor! She came highly recommended by a friend who works in the home loan industry. She was friendly, always available when we needed something, responded quickly to any questions and was incredibly knowledgeable. She made the home buying process so simple for me and my fiancé, she was great at finding houses that met our lists of must haves and keyed in on our style almost immediately. I was working long hours while we were looking for a house and she was always willing to work around my schedule even if it was late. She took care of everything, even answering questions weeks after the sale. I will absolutely use Sarah as our realtor again and recommend her to anyone searching for the PERFECT realtor!"
Single Family Home Buyer Dec '19
"Amazing realtor and great at learning what is important to her client! Thanks again!"
Single Family Home Buyer Jun '20
"Sarah was always available for any and all question, and home viewing request that my wife and I had during the home buying process. She viewed a ton of homes with us and with a market as competitive as Kitsap county is, I know that I would have never had found the perfect home for our family without her. She's connected and know where to find the right people to make the home buying process as smooth and easy going as possible. Thank you Sarah!!!"
Single Family Home Buyer Jan '20
"She was wonderful in helping me sell and super fast i would recommend her to anyone!"
Single Family Home Seller Jul '20
"Sarah was always there when I needed her. She kept me updated through the whole process. Her patience and perseverance also got me through the confusing loan process."
Single Family Home Buyer Apr '20
"Sarah was awesome to work with. On top of what ever came up. Not to mention closed during the current situation.. Would highly recommend."
Single Family Home Buyer Apr '20
"Sarah was very patient with us while we looked for our new home. She has a cheerful, pleasant personality and knows Kitsap County very well as she grew up here. That helped us a lot. She is very knowledgeable about the home buying process, and that made us so comfortable. Thank you, Sarah, for helping us find our dream home!"
"Sarah was so great to work with: Calm and nice, proficient and responsive. She smoother out all stress of the buying process while still negotiating confidently. I got the house that I wanted at a price and speed that surprised me. Thanks, Sarah!"
"Sarah did a great job selling a small piece of property in Tracyton. She really took the bull by the horns and got us a great deal. Thank you, Sarah!!"
"Sarah Purves is very professional, knowledgeable and efficient. She really cares about you having a smooth process from beginning to end and was always available for any questions."
"Sarah was a great realtor to work with. She was very flexible with us and our schedules when touring houses. She was also very responsive whenever we had a question and kept us informed throughout the process. We would definitely recommend her!"